The TCM-1 tilt current meter is ideal for measuring water velocity from inland to the edge of the continental shelf. The simple design and lower cost of the TCM-1 make it feasible to measure current in many locations simultaneously.
The core of the TCM-1 is the MAT-1 Data Logger. The MAT-1 data logger was designed for NOAA and is ideally suited as the "brains" of a tilt current meter.
The TCM-1 is field configurable for either low or high current range by simply adding or removing a calibrated ballast. Housed rugged PVC, with no external sensors, the TCM-1 is easy to deploy and recover. The built-in data logger includes a USB communication interface, a microSD flash memory card, and a long-life lithium battery.
More Information
 TCM-1 Product Data Sheet
Universal User Guide
 AN: Deploying the TCM-1 in an Inverted (Hanging) Orientation
IEEE Published Paper: A Comparison of Tilt Current Meters and an Acoustic Doppler Current Meter in the Vineyard Sound, Massachusetts
Pricing
Pricing depends on several factors, but is generally in the range of  $1000-1500 each. For a quote based on your exact requirements, please call 508-444-2616 or email sales@lowellinstruments.com.
Operation
The TCM-1 Tilt Current Meter measures current using the drag-tilt principle. The logger is buoyant and is anchored to the bottom via a short flexible tether. Moving water tilts the logger in the direction of flow. The TCM-1 contains a 3-axis accelerometer and 3-axis magnetometer for measuring tilt and bearing. The resulting orientation data is converted to current by applying calibration coefficients.
Specifications
See "TCM-1 Data Sheet" for more detailed specifications.
Data
Windows® software is used to configure the TCM-1 for deployment and to process data and saved as text file (.csv).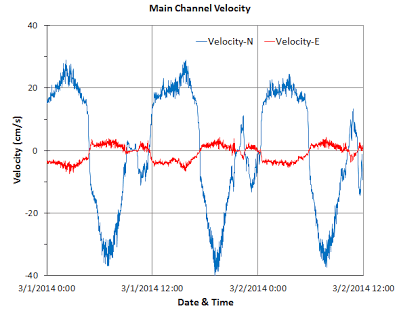 Key Features & Benefits
Water velocity for a fraction of the cost of an acoustic meter
Tilt compensated compass for bearing measurements
Simple, rugged, low maintenance design
Seaweed snag-resistant
Change range in the field without software
Temperature sensor accurate to +/-0.1C
8 GB memory card eliminates memory concerns
Lithium battery allows continuous 4Hz sampling for more than 1 year
USB 2.0 with standard cable and drag and drop data file offload
Package Contents
MAT-1 Data Logger
46 cm (18") current meter housing
Bronze "low-range" ballast washer and bolt
Lithium battery (installed in logger)
8 GB microSD card (installed in data logger)
1 m (3 ft) USB A to micro-B Cable
Spare O-ring (pre-lubricated)
30 cm (12") lanyard
Replacement Batteries and Accessories
See "Accessories" for a list of replacement batteries, tools and spare parts.