New Product!
The TCM-4 Shallow Water Tilt Current Meter (left) is similar to its older brothers the TCM-1 (middle) and TCM-3 (right) except that it is designed to be used in water as shallow as 1 ft (30 cm) depth. It has a carbon fiber housing and integrated MAT-1 data logger.  The result is a current meter that is optimized for coastal ponds, rivers and bays where shallow water is common.
Upcoming Events
Lowell Instruments will be at Ocean Sciences in Portland Oregon February  5-9th.  Look for us in the exhibit hall booth # 314.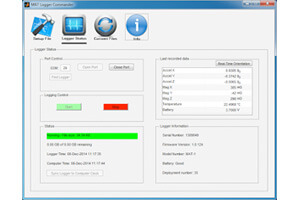 MAT Logger Commander version 1.42b is now available for download. Version 1.42b includes support for the TCM-4 and restores the Yaw/Pitch/Roll output type.