Battery Replacement Tool Kit
Description
This kit includes the tools that are required to open the TCM-x & MAT-1 Data Logger to replace the battery and desiccant. The kit also includes one replacement battery. Additional batteries are available separately.
Includes
1 x Special Tool
1 x "A" Size Lithium Battery
1 x 3/32" Hex Driver
1 x Battery Installation Instructions
Documentation


 Battery Replacement Tool Kit Guide
O-rings
Description
EPDM replacement O-rings for the TCM-x & MAT-1 logger. Durometer hardness is A70. There are two sizes PVC housing uses -909, Aluminum uses -910. Specify housing type when ordering.
Includes
10 x EPDM O-rings
1 x Packet of O-ring Lubricant (6 grams)
USB Cable
Description
Replacement USB 2.0 A to micro-B cable. This is the same type of USB cable that is used in many smart phones.
Includes
1 x USB A-to-microB cable 1 m (3 ft) length
Lithium Batteries
Description
A-size 3.6 V lithium thionyl chloride non-rechargeable battery with polarized cable/plug assembly for the TCM-x Current Meters & MAT-1 Data Logger. .
Includes
1 x "A" Size Lithium Battery
End Caps
Description
Replacement PVC end caps for the TCM-1 and MAT-1 logger. Includes one pre-lubricated o-ring.
Includes
1 x TCM-1 or MAT-1 End Cap with O-ring
TCM-1 Low-Velocity Ballast Washer
Description
Replacement low speed ballast washer for the TCM-1.
Includes
1 x Silicon Bronze Ballast Washer
1 x Silicon Bronze 3/4" x 5/16" Bolt
EP2000 Anti-Fouling Paint
Description
EP2000 has proven to be a very effective anti-fouling paint for tilt current meters. It is water-based and relatively easy to apply (with brush) compared to traditional metal-based coatings. One half-pint container contains sufficient paint for 6-10 TCM-1 meters.
Includes
1 x Half-Pint can white EP2000
Documentation


EP-2000 Technical Data Sheet
Anchors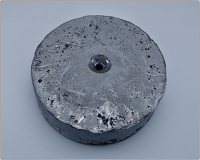 Lowell Instruments carries an assortment lead and concrete anchors for use with our tilt current meters. Please call us to discuss the requirements of your application.