The MAT-1 Data Logger™ is a device that is capable of recording absolute orientation (tilt), acceleration (including vibration) and temperature. The logger contains three sensors: a 3-axis magnetometer, 3-axis accelerometer and a thermistor. The logger uses a microSD flash card to store data and a long-life lithium battery that runs for months to years depending on recording rates. The system, packaged in a tough, waterproof PVC (300m depth) or titanium (4500m depth) case, is suitable for continuous use in a wide variety of demanding applications, including underwater.
Specifications
See "MAT-1 Product Data Sheet" for more detailed specifications.
More Information
  MAT-1 Product Data Sheet
  Universal User Guide
Pricing
Pricing starts at about $1000.
For a quote based on your exact requirements, please call 508-444-2616 or email sales@lowellinstruments.com.
Key Features & Benefits
Resolve static orientation to <1°
Sample accelerometer and magnetometer at up to 64Hz
Temperature sensor accurate to +/- 0.1 °C
8 GB memory card eliminates memory concerns
Lithium battery allows continuous recording at 64Hz for 6 weeks and for more than 12 months at 4Hz
USB 2.0 with standard cable and drag and drop data file offload
Housing Depth Rated to 300m (PVC) 4500m (Titanium)
Applications

The MAT-1 Data Logger has a wide range of uses on land and at sea. It can be used as a motion sensor to record vehicle use on land or to analyze underwater vehicle dynamics at sea. It can monitor the condition of goods during transit, including orientation, temperature, and vibration. Oceanographers are using the logger as a tilt meter to measure and map ocean currents and temperature on the bottom for fisheries management, current modeling and ecological studies.
Manufacturing
The MAT-1 Data Logger is designed and assembled in the USA. The circuit board is assembled in the USA and the housing is machined using CNC equipment by a local machine shop that specializes in oceanographic work. Final assembly and test is performed at Lowell Instruments. This combination assures the best combination of quality, flexibility and affordability.

Software
The MAT-1 Data Logger is a USB device and is used with MAT Logger Commander Software™. You use the software to configure and control the logger. MAT Logger Commander Software converts the binary data into a text file which can be opened by your favorite spreadsheet or plotting package for analysis.
How is it different from other loggers?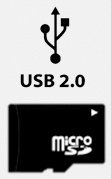 The MAT-1 Data Logger uses modern, mass-produced technology, such as magnetometers and accelerometers used in smart phones and game controllers, to create a reliable and affordable data logger. With the included 4 GB microSD card, the logger has thousands of times more memory than most other loggers. This large memory, combined with a low-power electronics design, allows the logger to collect high-resolution data over many months.
Package Contents
MAT-1 Data Logger (PVC or Titanium)
8 GB microSD Card (installed in logger)
Lithium Battery (installed in logger)
3 ft USB A to micro-B Cable
Spare O-ring with Lubricant